Business was:
We welcomed many new members and guests!
Upcoming dates:
Looking for a guild historian
Restarting the programming committee
We'll be offering a cross-back apron project at the March sew-in.
Mai did a great designer-of-the-month presentation on Jeni Baker of In Color Order. We shared a quilt made from her fabric and her Giant Vintage Star tutorial to introduce her work to our members.
Sue sewed a sample of MQG's block of the month.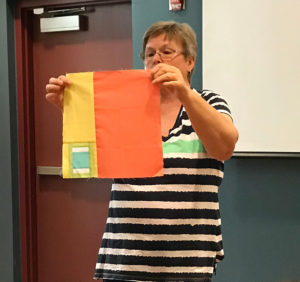 Dari did a really neat demonstration of how to make fabric washi tape!
And Sue demonstrated Crazy Mom Quilts ticker tape quilt.
During show and tell, Connie brought out her fantastic quilt that she made from a kit she won at our holiday party! Fabric from the kit was donated by Kilauea Kreations.
Then Sue showed us her wonderful Postcards quilt made with Carkai fabric.
Sue also shared a patriotic quilt and a Moda quilt.